Retail Cleaning in Lakewood, Colorado
Retail businesses require professional cleaning services to make sure they are ready for business every day. High traffic areas and frequently touched surfaces must be cleaned and sanitized to minimize the risk of cross-contamination and the spread of various pathogens and allergens. K.O. Commercial Cleaning LLC has been cleaning retail stores in Lakewood, Colorado for more than 6 years. Call to request routine retail business cleaning or one-time service. Be sure to ask about our flexible cleaning schedules.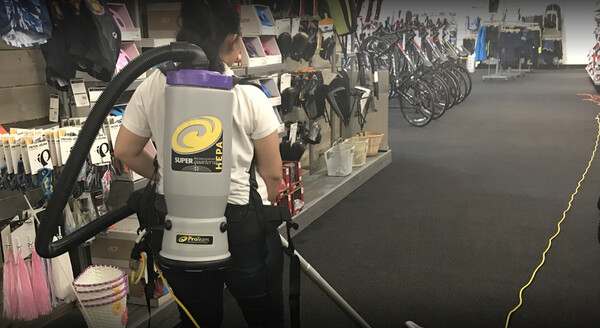 ---
Call for Free Quote
---
Lakewood Retail Cleaning by K.O. Commercial Cleaning LLC
K.O. Commercial Cleaning LLC has providing top quality retail cleaning in Lakewood, CO since 2017. Proper sanitizing of high touch surfaces is critical to retail businesses, particularly those that sell any type of food product.
Need Your Lakewood Store Cleaned?
K.O. Commercial Cleaning LLC provides full service cleaning to Lakewood retail businesses, like:
floor care for showrooms, entryways, and inventory space
restroom cleaning and sanitizing
sanitizing display cases, door handles, cash registers, countertops, vending machines, elevator buttons, etc.
trash/recycling removal
---
Call for FREE Retail Cleaning Quote
---
WHAT CUSTOMERS ARE SAYING:
5★★★★★ - "Satisfied!! They have been very attentive to our cleaning needs the past 2 years at our 10,000 sqft facility."

Jay G., Commercial Cleaning in Lakewood, CO

2023-06-07

5★★★★★ - "K.O. does a perfect job cleaning our office, kitchen, and large common spaces. Their customer service is professional and frequently follows up to make sure we are getting what we need. I am extremely happy with the consistent performance over the last five months."

Joelle S., Office Cleaning in Lakewood, CO

2023-06-07

5★★★★★ - "K.O. Went above and beyond with their cleaning service. Always punctual and never any issues. I highly recommend them!"

Edward R., Janitorial Services in Lakewood, CO

2023-06-07

5★★★★★ - "K.O Commercial Cleaning took care of the job in a professional, reasonable, and timely manner. Definitely will hire them again."

Dora G., Commercial Cleaning in Lakewood, CO

2023-06-07

5★★★★★ - "Great service. The cleaning person got to the job site before the scheduled time and stayed until late in the evening until the work was completed. I could not have been happier with the level of detail on the deep cleaning that was needed. I highly recommend you give Jacob a call and schedule your cleaning needs with him."

Steve A., Post Construction Cleaning in Lakewood, CO

2023-06-07

5★★★★★ - "K.O Commercial Cleaning took care of the job in a professional, reasonable, and timely manner. Definitely will hire them again."

Dora Garcia, Janitorial Services in Lakewood, CO

2020-06-08

5★★★★★ - "Great Service and excellent customer service. Highly recommended!!!"

Lauren P, Janitorial Services in Lakewood, CO

2020-06-08

5★★★★★ - "They have worked really hard to get my building nice and clean, your janitorial is greatly appreciated thank you so very much for keeping my building clean!! Keep up the great work!!"

Ruland C., Retail Cleaning in Denver, CO

2023-06-07

5★★★★★ - "Highly recommended"

Zariah R., Retail Cleaning in Denver, CO

2023-06-07

5★★★★★ - "From start to finish this company has been amazing! Jacob arrived to the facility prompt, he was very professional & listened to our needs. I was given a list of references and a detailed quote. Once agreed to Weekly cleaning, it was a seamless transition & the cleaning crew has done a great job every time. I would highly recommend giving Jacob a call!"

Core Beauty, Office Cleaning in Denver, CO

2023-06-07

5★★★★★ - "Very professional, does a great job!"

Jada G., Commercial Cleaning in Denver, CO

2020-10-16

5★★★★★ - "This team is AMAZING! They are always prompt, professional, and responsive. They do a fantastic job cleaning my dental office and I recommend them to all my colleagues. Thank you, Jacob!"

Sean O., Office Cleaning in Denver, CO

2020-09-17

5★★★★★ - "I really liked how KO made me feel like everything was included. The other companies I got estimates from had a "base" price and then you had to pay for each thing on top of that. I felt nickle and dimed. KO didn't do that. Jacob came to my house for an estimate and let me know that it was going to get cleaned whether it was dirty from construction or regular use. Even with a miscommunication about the contract, he was able to start the same day and got things looking great in a timely matter. I would hire this company again in a heartbeat."

Sarah R., Post Construction Cleaning in Denver, CO

2020-07-10

5★★★★★ - "K.O. Is great to respond and highly motivated to help out. I highly recommend them!"

Bill L., Post Construction Cleaning in Denver, CO

2020-07-10
---
Call for FREE Retail Cleaning Quote
---